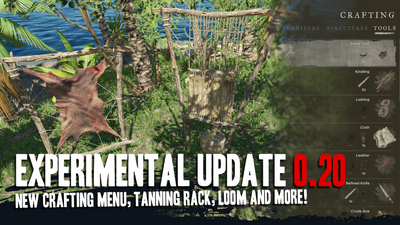 Exp. Update 0.20.00 is an update for Stranded Deep released on December 8, 2016.

The new Crafting Menu is the replacement for the larger crafting menu. Please note that it is not the new 'Quick-craft' crafting menu that will be coming soon. The new menu displays and organizes combos and materials much nicer and cleaner than previously. The new menu will also auto-select the required tool for the crafting category if it's available in your backpack (for building, farming, etc). This means no more forgetting to equip the tool and having to awkwardly close the crafting menu, equip the tool and reopen the crafting menu. Crafting as a whole should be cleaner and a little quicker.

There's also the new craftable Loom and Tanning Rack stations. These stations are standalone items like your Campfire and will also appear as ingredients for some craftable items like Cloth and the new Leather item. If one of these stations are within your crafting radius, they will count as a crafting material and you will be able to craft the more advanced items. Along with these two new stations are two new items - Rawhide and Leather. Rawhide is obtained from Boars and Sharks. With a Tanning Rack you can use the Rawhide materials to craft Leather in the Crafting Menu. Similarly, you can use the new Loom to turn Fibrous Leaves into Cloth. The crafting combos have been revised to use the new Leather material for most of the refined tools.

There's also a new and better Shark spawning system with more consistent placement and spawning. We're playing with some more interesting and dynamic Shark behaviours, like Sharks attacking your raft if you attack them!
Bug Fixes
Fixed fall damage occasionally calculating distances incorrectly. This should fix players dying from randomly flying in the air until we figure out what is causing the issue!
Fixed allowing players to update a map you're saved on via the update map dialogue which would clear the save data for that map.
Fixed Palm Top display name changing to 'Log' when separated.
Fixed Sharks occasionally colliding with rafts unintentionally.
Fixed Sharks spawning outside of a zone biome.
Fixed Sharks roaming under islands.
Fixed Sharks attempting to reach Players on land.
Fixed Sharks taking double damage.
Fixed Sharks exploring deeper than intended.
Changes
Revised Crafting combination materials.
Improved Players movement in water, more fluid.
Reduced size of Tarp item by 50%.
Reduced Boat Motor Engine volume.
Added experimental ability so Sharks will attack Rafts (A shark will dive down signalling an imminent attack).
Added ability for Sharks to respawn over a period of set hours/days.
Added new Shark follow and dynamic spawner for areas outside of zone bounds.
Added new Shark patrolling system with adjustable territory.
Added Shark patrolling spawners to map editor (adjustable territories will come in future).
Added ability for Sharks to be aggressive on first Player encounter.
Increased chance for Players to encounter sharks.
Removed Shark health regeneration.
New Features
New Crafting Menu!
New Tanning Rack station!

You can now craft a Tanning Rack. The Tanning Rack is used to turn Rawhide into Leather. The Tanning Rack is a crafting material and will be included in your available crafting materials if the station is within your crafting radius. Rawhide can be obtained from skinning Boars, Tiger Sharks, and Great White Sharks which can then be crafted into Leather for crafting more advanced items. Refined tools now require leather.

New Loom station!

You can now craft a Loom. A Loom is used to craft Cloth from Fibrous Leaves. Cloth will eventually replace Tarps for most crafting combinations.

New Rawhide item!
New Leather item!