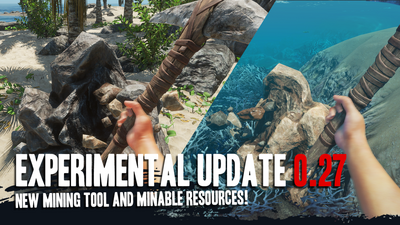 Exp. Update 0.27.00 is an update for Stranded Deep released on March 28, 2017.
Bug Fixes
Fixed Smoked Meat reverting when stored in Containers.
Fixed item display names not persisting.
Changes
Changed crafted objects to immediately pickup or store in backpack when crafted if possible.
Changed world data and save file location to use user's special documents folder.
Changed Clay Waterbottle to start off empty.
New Features
New Mining system!
New Pick item!
New Rock resource!
New Clay resource!
Dev Notes
Reduced performance overhead when creating and initializing new items.