Sea Urchin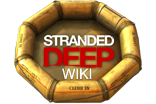 Sea Urchins are poisonous, granting the Poison status effect, but are otherwise neutral.

Sea Urchin is one of the Status Effects on the player in the world of Stranded Deep.
Summary
These small creatures live at the bottom of the deep sea and are unmoving. They are highly toxic when the player comes into contact with them, but other than that harmless.
History
Initial release: added